Sailing ships
Our core business is designing and build sailing ships. Here are some examples of what we do:
Our design specialty has been large sailing vessels: SSV's (sailing school ships), Subchapter-T passenger carrying vessels, and sailing replicas. All of these tend to be one of a kind with extremely varied mission requirements. The design solution is complex -- particularly when working with regulatory bodies. Our design philosophy is founded in the understanding that the ship is just one part of a transportation, passenger carrying or educational system. The vessel's ability to function in its desired capacity depends on how well that system is understood by the designer. A successful design fulfills the owners goals for the vessel -- this is true from the smallest yacht to the largest ocean carrier. That set of goals is called its mission statement. The initial concept coupled with the mission statement are the first step in the design process. A clear understanding of the performance goals is essential in the preliminary design stages. Identifying limits early on helps define the basic parameters of the design and to put the different requirements of the mission statement in proper priority.
We are known for traditional designs that recall the great yachts of the late 19th and early 20th centuries. William Fife, G.L. Watson, and N.G. Herreshoff are the masters of the past who we look to for modern inspiration. These men designed sailing yachts before the era of auxiliary engines -- they had to be handy and weatherly. Unfortunately, since the 1930's the gaff rig has become rare and only seen on historic replica vessels. We believe it still has a lot to recommend it and favor it for all our larger, traditional sailing yacht designs. For custom sailing yacht less than 100' LOA we like to use wood. Ocean going yachts exist in a harsh environment -- sea water is corrosive, cold and electrically conductive. Wood is a good thermal insulator and doesn't rust. It's also comparatively inexpensive, easy to work with and builds a beautifully fair boat.
Sailing School Ships
Some people argue that sail training is anachronistic, and that the skills taught there are no longer needed in the modern world. True, few of us really need to know how to set and strike topsails, splice a halyard, or steer a ship at night on the South Atlantic from an open bridge. However, the main skills learned are teamwork, self-discipline and confidence -- still valid after all these years.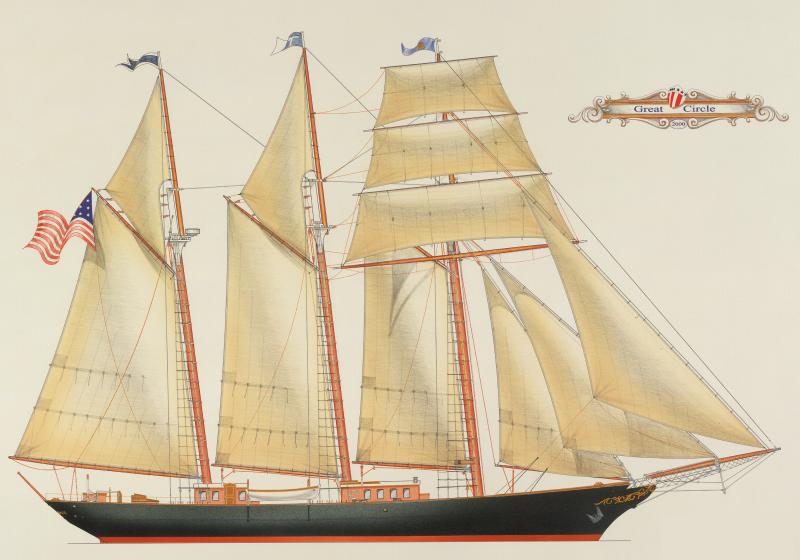 120' topsail schooner Great Circle
The fact is that modern SSV's spend most of their lives sailing coastwise and a vessel that is not handy, or can not go to windward under sail will simply spend most of its time powering. Likewise, the largest sailing school ships are prevented by their size and drafts from going to many desirable ports. That's why our new SSV designs are sharp schooners and barkentines with high sail area to displacement ratios and relatively little draft. Our latest design is a direct descendant of the clipper ships - the greatest sailing vessels of all times. Like her predecessors, she will have great power, speed and flexibility to sail in the ocean and coastwise. Unlike them, she will be equipped with efficient engines and modern communication equipment that will allow her to avoid hurricanes or just keep a schedule. Designed purely as a sail training ship, she will be a safe haven to her passengers and crew, an object of pride to her owners, and pure beauty to all who see her
There are no public SSV's in this country aside from the USCG Eagle. We believe that sail training is needed in this country, especially for troubled young men. On average it costs about $50,000 per year to incarcerate a kid in a correctional facility in the US. Wouldn't it be better to spent that money removing him from a corrosive environment and sending him to sea? What is more likely to allow a complete change in a young man's life -- a year in a juvenile jail or a year subject to the discipline of the sea?
Without a doubt, shipbuilding in the US was the most prolific and influential between the end of the Revolutionary War and the beginning of the US Civil War. This was Age of Sail and reached its peak during 1849 - 53 when wooden clipper ships broke records sailing around Cape Horn to San Francisco. These vessels, and their immediate predecessors the North Atlantic Packets, carried passengers across the oceans, operating without engines and largely without tugs. They evolved to be fast, weatherly and handy, qualities that were not designed for in the later bulk carriers.
Long after steam ships had taken over the passenger and high value freight trades, bulk cargos like coal, wheat and nitrate were still carried by sailing ship. By the end of the nineteenth century, these vessels grew to the then enormous size of 5,000 tons or more. They were relatively burdensome ships that were designed to sail economically before the wind. Unfortunately, many of the later bulk carriers actually became sail training vessels like the gigantic Kruzenstern. Even vessels designed specifically as sailing school ships were modeled after these freighters
Principal Dimensions
| | | | | |
| --- | --- | --- | --- | --- |
| LOA | 124 ft | | Draft | 12.5 ft |
| LWL | 100.0 ft | | D | 270 Ltons |
| Beam | 27.0 ft | | Cp | .62 |
| BWL | 25.3 ft | | Sail area | 6120 ft2 |
---
Subchapter "T" Passenger Carrying Vessels
Subchapter "T" is the least onerous of US regulations governing passenger carrying vessels. To qualify as a "T-boat" a vessel must carry less than 149 passengers and admeasure less than 100 gross tons. In addition to the restriction on gross tonnage, sailing T-boats have extremely highly regulated stability. Some well-intentioned designs have largely failed as T-boats due to a lack of understanding of (or a disregard for) the regulations by the designers and builders. Some well-known sailing "T" boats are: Amistad, Spirit of South Carolina, Pride of Baltimore II and Virginia.
The Schooner Virginia
Principal Dimensions
| | | | | |
| --- | --- | --- | --- | --- |
| LOA | 121.8 ft | | Draft | 12.25 ft |
| LWL | 84.0' | | D | 160 Ltons |
| Beam | 24.0' | | Cp | .57 |
| BWL | 22.2' | | Sail area | 6438 ft2 |
The Schooner Virginia is licensed as both a small passenger carrying vessel and a sailing school ship on ocean routes. She has an International Load Line. Tri-Coastal Marine designed this magnificent vessel and built it on site in Norfolk, Virginia.
Tonnage measurement
T-boats have to be less than 100 gross tons. That tonnage can be measured in two different ways: the "Standard" system (US only) and the Conventions system (everywhere else). While the two systems both measure internal "useable" volume and should give similar results, the "standard" system is possible to manipulate to get a lower gross tonnage. There are vessels which measure would measure 6000 GT under the Convention (i.e., rational system), but less than 100 GT under the Standard system.
A great deal of our work is reducing "admeasured" tonnage with tonnage reduction techniques permitted under the Standard system. This old system dates back before modern metal shipbuilding, and hence is very easy to game on metal ships. It is much more difficult to achieve large tonnage reduction on wooden ships.